Considered by his fans as one of the prophets of electric blues, Stevie Ray Vaughan left us prematurely (in a tragic helicopter crash). Still, his legacy lives on and is continuing to inspire and influence many musicians.
Born in Dallas, he showed his playing aptitude from the age of seven. After completing his studies, he began touring with the band Double Trouble. He also achieved significant commercial success, before his life was cut short at the age of 36.
Vaughan's Playing Style
His approach to playing is a mix of traditional blues techniques, virtuoso skills and witty rei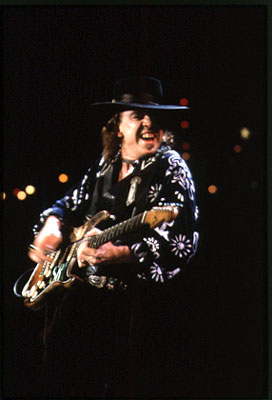 nterpretations of scales and blues moods. Some of his masterpieces are considered almost as "standards" for the genre and are studied and practised by many.
Vaughan's voice compliments his guitar sounds; the melody of the singing parts is wholly interlocked with the flow of the notes played on the instrument. His playing is fast, distorted and sounds like a river in flood, but at the same time is extremely precise and musically organised.
He dedicated his entire career in exploring the expressive power of the pentatonic scale and 12 bars blues structure; this commitment has made him one of the most influential musicians ever.